Good Research Data Management (RDM) is essential to ensure that your research data is FAIR (Findable Accessible Interoperable Reusable). To make sure our researchers are aware what this means, we offered a 2-day workshop on "FAIR Research Data Management: Basics for Chemists" from June 19-20, 2023. The course was held by trainers of NFDI4Chem, Daniela Hausen and Ann-Christin Andres, together with representatives from the University of Stuttgart and the CRC 1333.
These in-house workshops are offered by the NFDI4Chem as a service for institutions. In the course, NFDI4Chem trainers take the researchers through the basics of RDM while applying these to a chemistry context.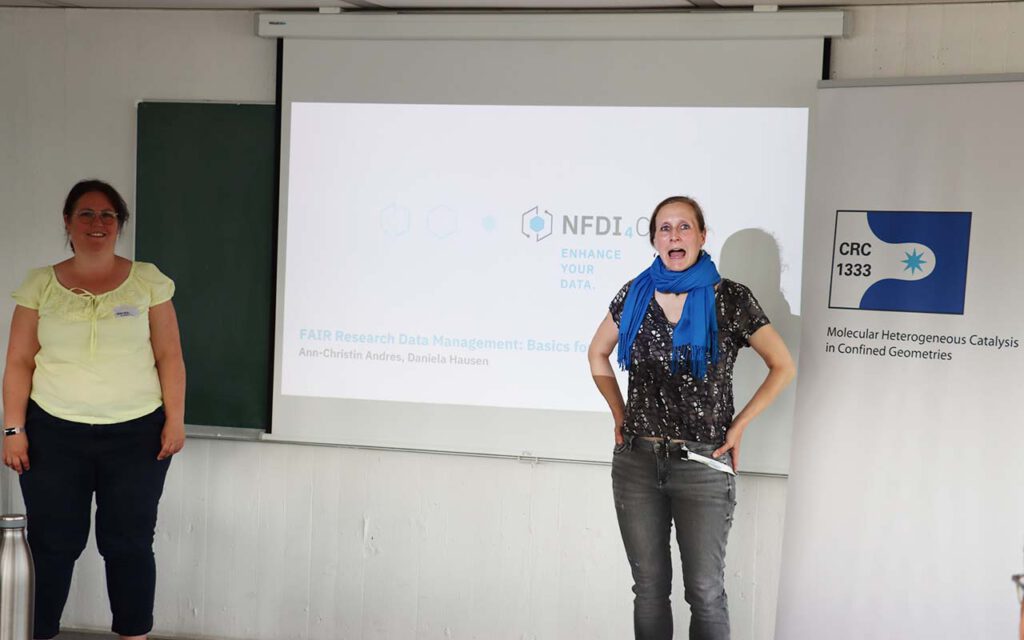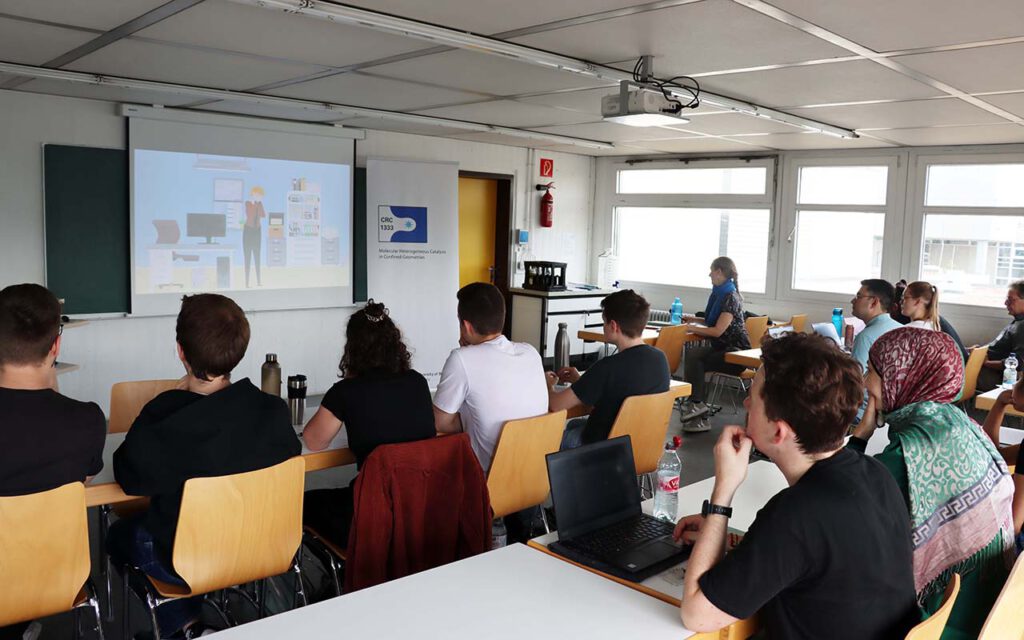 In addition to this general knowledge provided by the NFDI4Chem, we made an effort and added several elements to the program, specific to the University of Stutgart and the CRC 1333.
As a start, CRC 1333 Principal Investigator, Prof. Jürgen Pleiss (Project INF) explained the bottom up concept of our project INF.
In the part on Electronic Lab Notebooks two of our CRC 1333 researchers gave an introduction to the ELN they are using. Samuel van Gele (CRC 1333, project A03)  presented the ELN Sciformation. Torsten Giess (CRC 1333 Research Software Engineer, Project INF) gave an introduction to OpenBis. Chemotion, our current ELN software was presented by Benjamin Golub (NFDI4Chem).
The participants were then able to test the three electronic lab notebooks on one of their own standard experiments from their every-day work. Two experts for the ELNs Chemotion, Benjamin Golub (NFDI4Chem) and the developer of Sciformation, Dr. Felix Rudolphi, were both available online to answer questions. This allowed also online participants to join in for the ELN testing part.
To give a practical example on FAIR data management within the CRC 1333, Marc Högler (CRC 1333, Project C05/INF) presented on "FAIR Data Management for Simulation Results".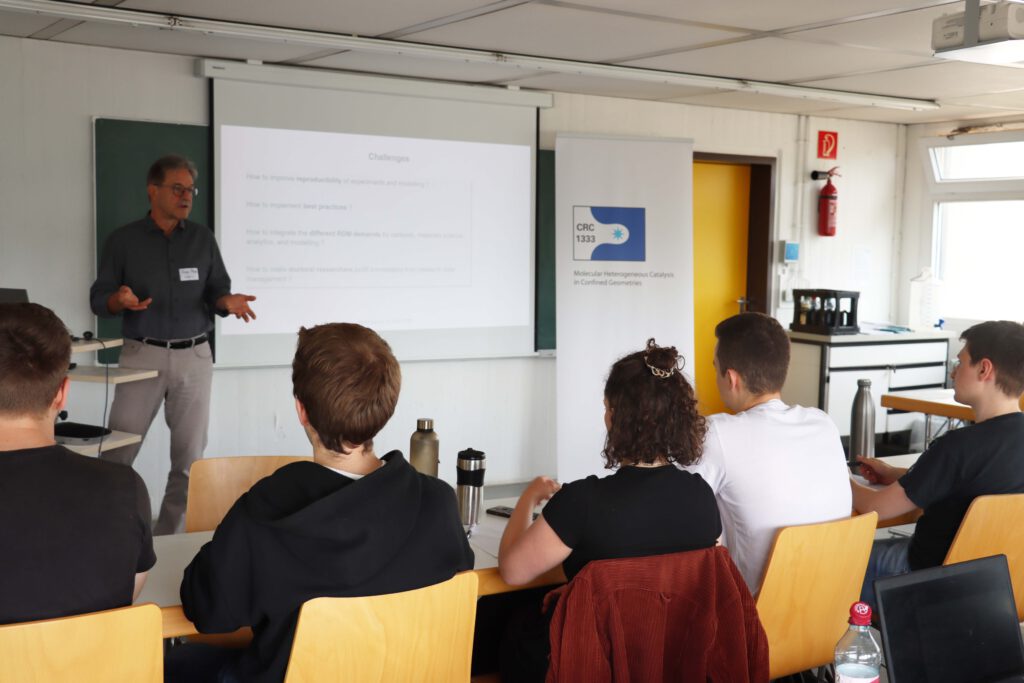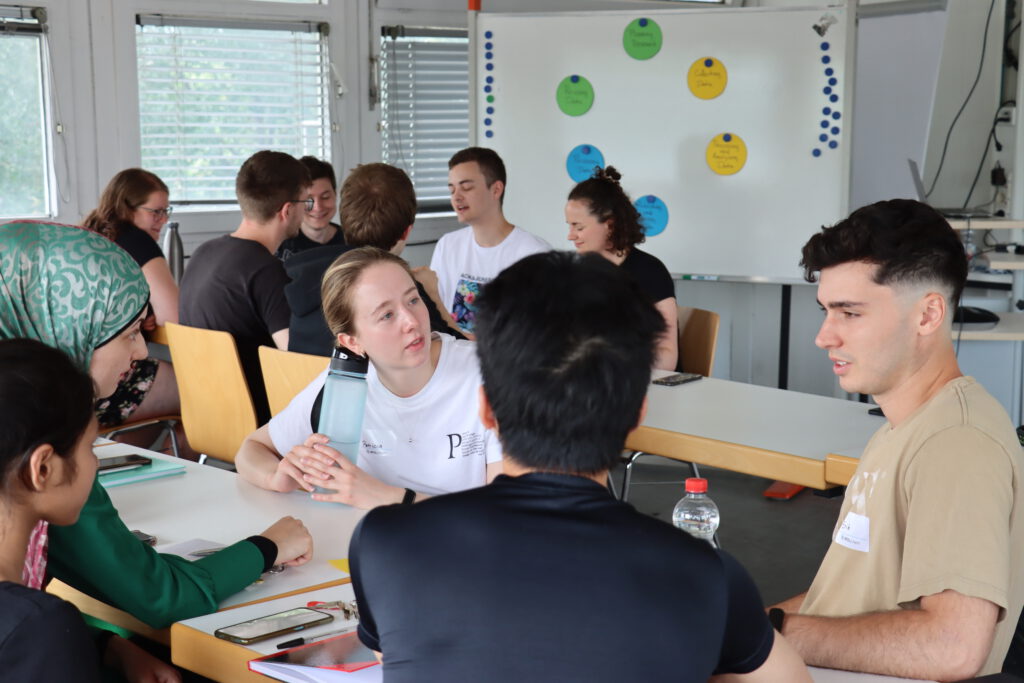 Dr. Dorothea Iglezakis from the FOKUS team of the University of Stuttgart gave an overview of the RDM offers of the University of Stuttgart (e.g. Backup and Storage). Additionally, she offered a  hands-on introduction to using the Data Repository of the University of Stuttgart "DaRUS".
Therein, attendees were able to upload data to DaRUS, as required for all data related to published articles in the CRC 1333. Each participant used a complete data set from his or her daily work, consisting of measurement data, process data, or simulation results, the metadata describing the experiment or simulation, derived data as a result of data analysis or modeling and the metadata describing the process of data analysis.
We thank all the particpants for their active engagement in the seminar which made it an exciting workshop for all involved!